Facebook Republished
This is a follow up to the previous post about Facebook taking down our page. It's a bit late as I've been busy with other things, so apologies for that.
So on Wednesday August 9th I received an email from Facebook saying our page has been published again! Hooray!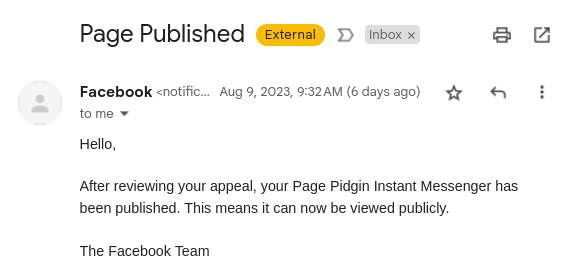 So we're all done right? Yes, but there's an interesting story here and we've gotten the okay to talk about it, so lets do just that!
As you may have noticed, Gary tried to find help with this all over. His blog, Facebook, X/Twitter, Mastodon, even LinkedIn among other methods. However, a retired Pidgin developer, Ethan, reached out to a contact he had at Meta and that's when things actually started happening.
His contact let us know that the page got taken down because Meta had just started up a new AI model whose purpose is to help them find and take down pages posing as Meta properties. Since the title of our page is Pidgin Instant Messenger it got auto taken down by the AI due to the use of Messenger and was never looked at by a human reviewer.
The contact went ahead and filed an internal appeal to the page being unpublished. Once reviewed by a human, it was very clear that we were not impersonating a Meta property, so Meta went ahead an republished the page. They also added our page to their seed set/corpus so it should not be taken down again in the future for impersonation.
Luckily this story had a happy ending, but it seems like that only happened because we had contacts inside of Meta that could push things along. At any rate, this is a good case for showing that AI is only as good as its input.